Menu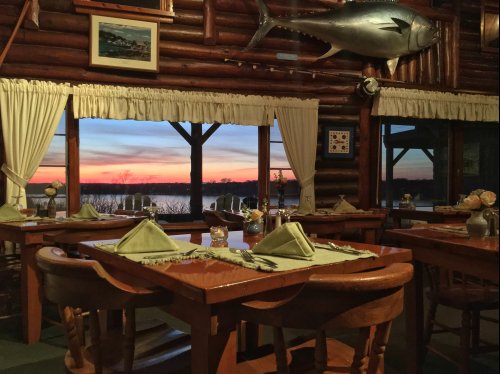 ~A full breakfast is included with your room and served daily from 8-9:30. Each day we start with coffee, juice, fresh fruit, a pastry followed by the main course. The menu is the chefs choice and changes each day. Please let us know in advance if you have any dietary restrictions.
~Dinner is for room guests only. We do ask that you preorder by 3pm.

Appetizers
CRAB DIP - A warm creamy dip blended with native crabmeat served with assorted crackers. $11.95
SCALLOPS IN BACON - Ocean scallops wrapped in bacon served with fresh fruit. $14.95
Entrees
SURF 'N TURF* - Charbroiled 8 oz. certified Black Angus filet mignon and hot boiled lobster tail served with drawn butter. $35.95
BOILED LOBSTER - Fresh 1¼ lb. Maine lobster served with drawn butter. $24.95
FILET MIGNON* - Charbroiled 8 oz. certified Black Angus filet mignon. $29.95
HERB MARINATED CHICKEN - Boneless chicken breast . $18.95

SHRIMP & SCALLOP PESTO - Gulf shrimp and scallops in a pesto sauce, served on pasta. $24.95
SAUTEED SCALLOPS - Ocean scallops sauteed with seasoning and a light maple glaze. $26.95
STUFFED HADDOCK - Haddock baked with a seafood stuffing, topped with a lobster sauce. $22.95
SEAFOOD CASSEROLE - Scallops, lobster and haddock baked in a cream sauce with a crabmeat crumb topping. $25.95
DESSERT OF THE DAY - $6.95

All entrees are served with a salad, potato, vegetable and rolls.
*Consuming raw or undercooked meat, poultry, seafood, shellfish or eggs may increase your risk of foodborne illness, especially if you have certain medical conditions.